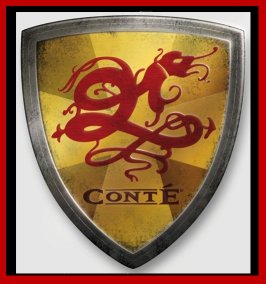 Questions and Answers



Please send your questions in and when time allows we'll do another 20 in a few months or when we can get RC to sit and do this........no quarantee you'll get answered or published..but as you can see RC is willing to answer a wide variety of questions:

Q-- What is your favorite toy soldier set or pose?
A-- It's always my next one-- I'm always looking to the next pose or set on my list. I like to think that my favorite one hasn't been made yet because I'm always searching for ways to improve our work.
I really think the Roman War Galley was off the charts terrific, amazing and far surpassing anything which we or anyone else has done in terms of sheer scale, size and difficulty of production. I also really like our upcoming siege tower and castle....and yet another limited edition Viking Ship which I am thinkingwill be my favorite !
I also must admit to loving anything we do based upon Einar & Ragnar. In plastic, the poseable Spartans as a group are my hands-down favorites. I never would have thought I'd see poseable plastic army men!!

Q-- What Regiment are your Civil War Zoauves? Will you be doing other Zouaves?
A--5th New York Volunteer Infantry otherwise known as Duryee's Zouaves (or in some books Duryea's Zouaves). Honest answer is I haven't even thought about the timing of another regiment. Getting these 15 sets done has been a monumental undertaking.


Q-- What About Alamo Playsets? Will You Be Doing Any More? How Goes the Enlistment campaign?

A--I had thought we'd covered this topic elsewhere on the web site. Most colllectors have told us they do not have room for the 'areas' depicted by sets 6 and upwards. We can't keep losing $$$$ with products which sell poorly. We are trying to drum up support for more Alamo by asking collectors to commit to buying Playsets 8/9/10 and so on. To date, response has been less than encouraging with probably 80% of plastic Alamo collectors telling us they will NOT buy new playsets simply because of the space issue. Only a handful of Alamo buffs have crossed the line to stand shoulder to shoulder with Travis. Interestingly, the 3 guys who are most vocal about telling us (and the world) that it is Conteco's duty to finish the Alamo have NOT signed up......according to our records, 2 of these 3 gentlemen never even bought sets 4/5/6 yet they are constantly berating us for not finishing the entire 'fort'. Some things never change...... I remain hopeful...


All of us Alamo fans are extremely passionate about the subject matter--I just wish there were more of us!

Q--I read that you once had plans to make a Titanic playset but scrapped the idea?
A---This is sheer & utter nonsense started by a guy on one of the internet forums. We NEVER had any plans to make such a set. We NEVER even considered it for a second. The guy who amazingly has the nerve to make up this story claims to have heard direct from me that we were doing the Titanic as a playset. Simply put, he's lying as the conversation NEVER took place. That said, it's flattering to know that folks may have believed this fellow and thought we were capable of making such a set!!! In 1/32 scale the Titanic would need to be about 30 feet long and delivered on a 40 foot long flat bed truck at a delivery cost(I'm guessing) of $3000 on average. How such a monster could even fit through a doorway and into someone's house is even more mystifying.


Q--I hear you've relocated the warehouse to North Carolina? How do you like it?
A-- Yes, this is true. Please see our new address/phone etc. elsewhere on this site. We love NC. Beautiful state, great people, terrific mountains/beaches, nice weather and an NHL team. More importantly, the Pirate Woman likes it ! The relocation was a nightmare which about put me into a cemetary. No one has any idea how monumental a job it was to pack/ship/unpack/etc. a complete warehouse full of toy soldiers.

Q--I heard a rumor that another Viking Ship is planned? How do I sign up for one? I have the first 2 and want to keep my collection current.
A-- This is one rumor that is true. We are planning a third ship. Watch for details on the website. The plans are for this baby to have a sail which contains the Conteco logo design on the sail(just like Ragnar's Great Snake did). This one will come with new dragon head, tail, accessories, and a bunch of new figures. I also plan to release a "Viking funeral" figure set to go with it. I'm toying with the idea of also making some Vikings with grappling hooks and such to be used when attacking another ship (like our Cog). We are NOT taking preorders yet as this one is quite a ways out....


Q--Why was the Saxon Church Never released? Are you going to make it?
A-- Simply, the factory which made the samples really let us down. They were supposed to make the Church but never did. These are the same folks who were supposed to make the pirate ship but gave up when it came time to do the rigging. The church is on my list to produce when we get back into the Vikings in a big way. We also have a siege tower and a castle main gate complete which also are awaiting their turn in the production line along with a fantastic new batch of Vikings, Normans and Saxons.


Q--I'm trying to buy an out of stock set which you've been sold out of for years. When can I expect to be able to buy one? Why the delay?
A--Common question. The answer varies depending upon which set you are seeking. Many 'old' Conte metal sets will NEVER be reproduced and are truly sold out. Some of our older sets done by various sculptors are just not as good as what Robert Ortiz and others are sculpting for me now and I see no point in taking steps backward. Faced with limited factory time and the resources of skilled painters, I have to choose between producing new sets vs. restocking old. For right now, ALL efforts are going into new sets.

I've tried for almost a decade to restock sets and make all collectors happy but can no longer keep restocking 'old sets'. In the future we just won't be doing this for all sorts of financial reasons. Sets need to be retired/discontinued from time to time and doing so will enhance the collectibility and value for those of you who have bought in early....


Best advice: buy the sets when they first come out as we make no promises about restocking or rerunning them. Factories have minimum order quantities and as much as we know you and a few others may want a particular set, it often just makes no sense to run a large production run just to be able to fill a few orders.


Q---Who is your all-time favorite hockey player?
A--- Love these non toy soldier questions !!!! (and surprised anyone wants my opinion) How does one pick only one? So many greats.
I'd have to hedge here and say the 2001 Colorado Avalanche stars. Roy, Sakic, Bourque, Blake, Forsberg, Teemu Selanne of the Ducks.

Q---I saw the picture of your dog who is head of security; what kind of mix is that?
A-- not a mix. It's a pure bred Shiba Inu which is a Japanese breed. She does a great job with security by the way.....and is an amazing little animal.

Q---When are you going to update your list of Conte dealers on your website?
A---Soon. ONLY those who are willing to work with us to keep costs low to collectors will be staying. We manufacturers need to do our best to work together with responsible fair-minded dealers to try to keep prices as low as we can.......sadly, a few dealers are 'in this' more for profit than for furthering the good of the hobby and these folks will be parting ways with us. Some dealers are insistent upon 'profit margins" which I do not think collectors should be subjected to.......and which I am unwilling to allow--these fellows will be leaving.

As you've probably read/heard, we've had some trouble with some dealers violating our dealer terms and conditions as well as (in some cases) good taste, professionalism, the law, etc. Classic examples were 2 dealers who apparently were attempting to buy product 'out the back door' of the warehouse for cash given directly to employeees.....or another 3 who were taking 'exclusive' parts /figures out of the sets they belonged in and then were selling these separate from the set . When a different collector ultimately bought the set and discovered parts were missing Conte quality control was blamed and the collectors contacted us....or one who was flat out committing fraud by painting some of our plastic Zulu sets and telling collectors that these rare sets were special limited edition runs which ole RC apparently had made for himself......dealer sold these for a ton of $$$ to collector and when paint flaked on spears, collector contacted us for a replacement. These were such rare sets that I didn't even know about them.........

Only those dealers with bricks & mortar stores and/or those who attend at least 5 toy shows per year with Conte product will remain. The guys who were merely taking our product and trying to undersell it on internet auctions are gone as well. Museums. National Parks, etc. are always welcome to carry the product!

Q--Are You Planning Any Movie or TV Tie-Ins? I'd sure like to see you do "Combat"...
A--- Maybe yes--there is always a chance as I'm always open to doing movies which I like-- If and when we agree to something we will announce same when given approval by the studio to do so.
As of right now I would say NO. We've done lots of movie tie-ins in the past and have generally found that more leg work than you might imagine goes into garnering studio and/or star approvals of sculpts, designs/packaging/etc.. , getting contracts approved , etc....Plus one has to pay the studio a fee, then each of the stars a fee...etc....gets very expensive very quickly.

Q---Why is it so hard to get playsets from you guys right now?
A -- We have relocated warehouse from Nevada to NC. The LAST THING we needed (trust me on this) were even more boxes to sort and identify--not to mention sending cross country twice --. Play sets and their parts take up far too much room and are generally the largest tems we carry. Please also see comments I've made elsewhere in Q &A regarding minimum production run sizes and so forth....... Now that we are resettled we are planning on reproducing some of the play set buildings. terrain and/or parts . Please watch the site for details. No specific dates are scheduled or even going to be guessed at. My priority now is NEW sets.

Some of our original playset parts are being revamped and improved for sale with painted metal figures. These will be released as painted models. Right now we are getting a number of Zulu related walls/wagons/etc. produced to go with our Zulu range.

I wish I had better news but it never ceases to amaze me when a collector calls asking for Alamo #1 or DDay #3 and I get an earful about how much they want the set and how they've 'planned to buy it" since 1999 or 2001 or 2003 or whenever. Somehow, it becomes my fault that a set which is 9 or 10 years old is no longer in stock. As always, the best advice is buy something when it is new as there are no promises that we will reissue it again and again. Some of the Alamo and WW2 sets were restocked 5 or more times yet folks call and complain when we don't have the set---it's not our fault if you didn't buy it when new or after one of the restockings. We can't be expected to keep 5 and 10 year old items in stock although we try.......

Q---I'm an international customer and there are no dealers in my country--how can I get your products?
A---FROM US !! Or From One of Our International Dealers in a Country near you. We ship internationally each and every day to any countries which the U.S.Post Office will deliver priority mail. We would be glad to sell to you directly. We use USPS priority as this is the safest and most secure way of sending our treasures to you. Please do not demand that we use less expensive and less certain mailing methods. We also will use Fedex and UPS if you request same but this is generally more expensive than priority mail. Please do not ask us to falsify customs declarations. You are responsible for any local fees/duties/taxes imposed by your country.

We refuse to ship to Viet Nam, North Korea, and a few other places . On some international orders we may request payment either by a wire transfer or money order or Paypal as we have had some bad experiences with charge card chargebacks being attempted.

Q-- Why don't you take part in more internet forum chats or discussions?
A--- As a general rule I don't take part in ANY forum 'discussions or chats" . I I love talking toy soldiers with fellow collectors but there are simply not enough hours in any day to do all which I try to do for this crazy labor of love I'm operating. Any free time I have goes to designing new poses or chasing my wife , seeing my grandkids , watching hockey or old movies or playing with my hounds...or answering direct emails/letters. There just simply is not enough time....

I personally answer (on average) something in the range of 30-40 collector emails per day (over 10,000 in 2009) as well as some phone calls. I figure if somebody really wants to ask my opinion or get an answer from me that they will do the logical thang and send me an email or phone me directly. WHAT A CONCEPT!!! You write me & I respond----it can't get more direct than that. I like to think that I am surprisingly 'available' to all reasonable questions and do my best to give a reasonable answer.

Said another way, since I care enough to make myself available to answer direct inquiries from people who take the time to call or write and engage in a gentlemanly exchange wherein we each know the others identity(no hiding behind screen names you devil!), share a mutual enthusiasm for our hobby, and no games are being played....what more can I do???? If someone tries to ask me a question via a forum (rather than directly) he's going about it the wrong way & very likely was not really interested in hearing my answer in the first place.......

Q--- Can You Tell Me More About the French Foreign Legion Archaelogical "Dig"??
A---Yes. It's coming but these digs take time..... without saying too much it is largely based upon the lost tomb of Alexander the Great. I am a huge FFL fan and a new set was long overdue. There are a growing number of pictures on the site so check back often as we will be updating this major undertaking from time to time. Yes it is intended as a major playset and will have terrain/accessories and so forth. I think we now have over 20 new poses sculpted and i suspect this may need to be broken into two or more sets as I do not intend to artificially limit its scope or scale. Look for a ruined temple, and underground chamber, defensive walls built by the FFL and this time around some Arab cavalry. Joe Berton our original FFL sculptor has done many new FFL while Robert Ortiz has been busy with belly dancer, tribal leader, and si going to work some magic with hand to hand sets. Please keep an eye on the website

Q---I've ordered Several Times online off the shopping cart and sometimes the computer tells me something is in stock and then I find you don't have it? Whassup?
A---Unfortunately, this is a problem we live with every day and which still may take some months to fix. Quite simply, our computer shows inventory as one thing and the reality is sometimes (actually quite often) another. Rather than rehashing the problems experienced with the Vegas office or the possible reasons for these errors, all I can do in the short run is apologize and tell you that in time we will get this fixed. In the meantime, any and all orders from our online shopping cart are subject to actual checking and review by a human to make sure we can send you what you desire. MOST OF THE ITEMS SHOWN AS IN STOCK ON THE COMPUTER WE DO HAVE
Even though the computer may generate a letter saying thanks for your order--ALL ORDERS ARE SUBJECT TO APPROVAL BY THOSE OF US IN THE WAREHOUSE AND OFFICE. We have found inventory errors both positive and negative so that while there have been some disappointments, there also have been a few positive surprises when we have found sets IN STOCK which the computer says we are out of......

Q---Have You Seen The New Movie preview For Robin Hood? Any chance you might do this as a series?
A--- We already have a Robin Hood series of sorts underway and available. There is an exquisite new RH dueling with Guy of Gisbourne coming in the Collectors Club (unless I decide to make an entire RH series) and we also have previously done 2 R Hood sculpts one firing an arrow and another carrying a deer. Also, the "Hooded Avenger" from the Viking Valhalla Awaits series from a couple years back was always intended as a mysterious Saxon archer. Add to this our range of Saxon figures, Normans and medieval village buildings and we are already 'there". I've had 2 comments already this week that the Ridley Scott film preview actually shows Russell Crowe in an outfit eerily similar to the Hooded Avenger costume ....ours is green, the movie preview image looks brown.......hmmmmm...and a batterng ram which looks eerily like our "I Hear Ya Knockin" ram set....hmmmmmm...and the 'castle' in the preview looks alot like ours....hmmmmmm. I must say that the Norman helmets in the previews has us excited--but then we were always predisposed to Norman toy soldiers.....ah Chrysagon De La Creux you are needed now......if only we could work Einar into this mix

Q--- Have You Heard About Or Are You Participating in the Setting Of Industry Standards for Plastics Manufacturers?
A--- I'm told that a few small plastic mfrs. have been talking about setting some standards as to size/scale of the figures. NO we are not in discussion with anyone nor have we been approached about setting some standards.

That said, I would be glad to take part in such a project and suggest that the first standard be that they all agree to not sell to collectors less than terrific sculpts. Good sculptors are available and some of these companies might consider upgrading their talent. Secondly, I'd urge all to agree to do their best to remove ugly 'blockout' from their figures and to maximize 'undercuts" on figures even if this means these fellows spend more $$$ on their sculpting & molding and make less profit. Third, all mfrs. should commit to using modern molding techniques which are available rather than continuing to make figures via antiquated '2 part molds". A flat two dimensional figure usually is what comes out of a 2 part mold(bringing alot of blockout with it)--most of our Spartans as a contrast have an average of about 11-12 separately molded parts and speak for themselves....I'd hate to think what our Spartans would look like if we had 'dumbed them down" into a 2 part mold......horrific to consider. Fourth, mfrs. should agree NOT to make figures out of any materials which are likely to decompose, dry out or break over the long term or to allow figures to be made in less than 'laboratory conditions" as suggested by the chemical manufacturers.. . A collectible by definition should have some longevity and not ooze chemicals or dry out over time. That's it for starters....

Said differently, agreeing on height/size would be terrific but even if all agreed on the same size this alone would NOT make all figures 'compatible". A poorly sculpted figure with anatomical problems or animation issues or historical accuracy issues is still going to be out of place next to a sculpt which (a) has none of these problems and (b) has been molded using the latest technology.

Sadly , I don't think there is much chance of getting people to agree to the 4 items I've quickly outlined above. The costs of making a plastic figure are expensive and the market of potential buyers is rather small. Plastic figures are a $$$$ loser (for many years) if done right and most companies just cannot commit to make an excllent product and then wait years and years to recoup the expense....

Q---What's For Dinner?
A--- That was me asking the fair Nancy what vittles we're having because I'm done answering questions for the web site.



11/03/09

Question: It Is Being Reported On One of The Toy Soldier Forums That YOU Have Specifically Told A Collector " That The Alamo Will Never Be Finished"; Is This True???

Several collectors have informed me that intentional MISINFORMATION is being posted a 'forum' (known for its bashing & intentional misinformation) regarding Conteco's range of Alamo play sets & figures. From what I am told, one of the few but very vocal Conte bashers is up to his usual & predictable tricks, intentionally passing along false information & trying to stir up yet another fake controversy. This clown is one of the same guys who is constantly telling people that Conte is going out of business.....so at least he's maintaining his usual low standards .....

Normally, I would ignore this transparent & predictible drivel and nonsense but I am told that this 'gentleman' ( I know the term is being very loosely used here) is using the old dishonest ploy of claiming to have spoken to someone who allegedly spoke to me at the Hackensack toy show on Sunday. How convenient to conjure up these mysterious 'sources'.....

Allegedly, I told someone face to face that "that the Alamo will never be finished".

This conversation never took place. His post is an outright fabrication & lie.


I NEVER told anyone that we were stopping Alamo sculpts of figures or of buildings. I DID explain to a couple of people that ALAMO demand was sadly much, much lower than we had hoped for and that we had LOST MONEY on Alamo Playsets 5, 6 and 7. I further explained that sales dropped off by about 1/3 with Playset 5 and then diminished by about 1/2 with 6 &7. I explained to a couple of folks that most collectors who had purchased sets 1, 2 & 3 had told us that these sets were all they 'had room for" and that they could never set up the complete Alamo due to the huge size a complete diorama would take.

I stated that I still hoped to fulfill my dream (and that of many die hard Alamo collectors) of finishing a complete 1/32 scale Alamo and that I had already lost lots of money trying to make ths dream a reality as I had made more figures and more buildings than all other manufacturers combined....... I told folks that I was disappointed & very surprised that there weren't enough Alamo buffs willing to 'pony up' the money to support Alamo sets 5/6/7....and to cover the huge sculpting and mold making costs associated with new injection molded figures (over $4000 per figure ). I mentioned to people that each new playset with 20 new injection molded poses/buildings and accessories would easily cost me $100,000.00 per playset before we would receive a dime. I explained that while I could save money by making 2 dimensional figures similar to many other mfrs., that I was not willing to take a step back after we'd established new standards with our GIs and Poseable Spartans. I mentioned to a couple that I had heard that one of the other makers might be doing a north wall which might be compatible with our sets & that I was aware of an already existing chapel 'interior" which could be acquired from others.

I even mentioned to several that my son (who was at the show) is named Travis and that his name in and of itself should illustrate how much the Alamo means to me. I also discussed the fact that Alamo (especially the play sets) sadly sells very poorly outside of the USA and that even our Vikings and Foreign Legion outsell Alamo by at least 3 to 1. WW2, Civil War, Zulu , Spartans , etc. outsell Alamo by at least 5 to 1.......

We will be starting a sign-up pledge campaign whereby we hope to obtain the support of at least 300 Alamo buffs who will promise to buy future sets. If we can reach that number, we will immediately get Play Set #8 into production and hope to recover our costs in the long run . If not, we will do our best to put out 'bits & pieces" rather than full-fledged playsets. As much as some of you ( me too) want Alamo Playsets #8, 9, 10 and 11 to be made, I can't lose money on these sets.....

It's a curious situation to lose lots of money on trying to make our collective Alamo dream come true while also having to endure defamatory remarks from guys who have never supported the Alamo range.

Hope this sets the record straight. I encourage those of you who are Alamo 'buffs' to 'sign up' for the new play sets!! And please write me if you have a question rather than listening to specious rumors & lies ...




ALAMO UPDATE(11/5)

A collector has sent me an item from the website of Toy Soldiers of San Diego (TSSD) regarding some Alamo buildings being done by them which will be intended to be compatible with our Alamo Play set buildings and terrain in our 7 released playsets. TSSD's web site was reported to me as www.sdsoldiers.com and I assume they will post updates periodically so you might want to check it out.

They apparently announced their intention to do the 'north wall' several months ago & perhaps reposted this info in light of our Alamo announcements.

The only 2 items I take issue with are (1) their comment that the north wall will complete the Conte fort.....this is in gross error as we have not done the Long Barracks ...nor have we done the second half of the WEST Wall . Some collectors repeated the pieces from our Set 7 to simulate the second half of the West Wall

Someone might want to inform these kind folks that a good 3' to 4 ' long gap will exist until the long barracks can be completed--- and a 2 foot + gap will exist on the West Wall. The missing long barracks will be the obvious place for the Mexican Army to plan their attack!!!!!!!!!!!!!!!!!!!!! and the siege will not last 13 days !!!!

(2) As always, I like to see sculptors get the proper credit for the work they have done and again TSSD must have been misinformed & their comments might confuse things to the detriment of a few gifted artists. Ken Osen was NOT the original sculptor of our complete Alamo. A wonderful sculptor named Jim Rogers sculpted the beautiful Chapel which is the fortress's obvous centerpiece. ALL Mexican Army were sculpted by Rogers and/or Robert Ortiz.; the overwhelming majority of our Defenders were sculpted by Rogers/Ortiz; ALL hand to hand sets & character figures (which really create the most intense action) were sculpted by Ortiz, all artillery + crews and accessories by Rogers, etc..........etc......



Below is a interview with RC with a focus on Plastic figures done by a British Magazine.

Question 1 What made you get into plastic figures - was it the fulfillment of a childhood dream?
Answer 1 I have always been a big fan of plastic figures. Like many, Marx playsets formed the backbone of much of my childhood 'playtime" (loved the Boonesboro, the Vikings, the Robin Hood & the Ben Hur ranges). My earliest memories are of playing with plastic with my Grandfather. I also loved Timpo figures---particularly their Romans, Crusaders and Vikings and much later in life was thrilled to be involved, close-up in watching John Jeffries create his fantastic Accurate Figures range. As a child I day dreamed of the plastic armies I would love to command but I had absolutely no inkling that I could or would ever make even a single solitary soldier let alone create such a large history of growth as a plastics maker. I always hoped that the big companies like Britains) would make the soldiers which all plastics buffs 'needed' but unfortunately most of the so-called industry leaders seemed to have little time or attention for their plastics fans.......in the late 90's I found myself unemployed and believed I perhaps should try to see what I could do on the plastics side since none of the manufacturers 'out there' were making the sorts of figures which I wanted.........Unfortunately, Accurate had ceased operations and no one else seemed to care about producing highly detailed injection molded figures.....what else could I do but get involved...???


Question 2a Did you have a 'Game Plan' when you started, about which periods etc you were going to do, or was it just serendipity?
Answer 2a

I most definitely had my own ideas as to what I wanted to play with, what I wanted to enjoy, and we have pretty much been following my 'list' as we've progressed. Having said that, I should point out that this 'whole thang' has been a learning process for me and I've intentionally delayed making certain figures or periods so as to allow us the time & ability to improve or enhance our ability to make great figures. Said another way, I wanted to bust out from the somewhat two dimensional world which plastics had become.......I wanted to eliminate ugly 'blockout" (the plastic which appears in spaces where it shouldn't be ) and to increase the number of 'undercuts" (like the underside of the 'skirts' on our Normans) I constantly was asking why other manufacturers weren't improving their figures and wondering why steps weren't being taken to 'advance' plastic soldiers concurrent with changes in available technology.
It always bothered me that 'plastics fans" had to be happy with less lifelike animation than metal collectors and I really wanted to see if I could take a whack at righting this wrong.
I was resolved to 'look into' these matters and to see if I could push the envelope.......

Most don't know that I worked 1/3 of my time in Great Britain from 1981 until the late 90's running the Priory Hospital In Roehampton and building a chain of private hospitals throughout the UK and that many an otherwise lonely weekend was spent touring museums, castles, battle sites...all the while deepening my enthusiasm and love for Britain and much of Europe. I'm sure that many of these tourist visits fueled my re-emerging interest in toy soldiers which had become somewhat dormant in the 80's......

Vikings, 24th Foot/Zulus, French Foreign Legion, Alamo and the rest were all amongst my favorites so we got into those early on. Others such as Rogers Rangers I stayed away from as i didn't want to harm the sales of folks already addressing these periods. Others such as Romans and Spartans I delayed doing as I realized that the technology of making life-like poses with weighty shields was literally going to require a balancing act.......it took me a while to become comfortable with 'how' we were going to make realistic and wildly animated figures which required multiple separately molded parts............that said, I think our factory has done us proud and that we are now ready to take on any subject matter which strikes our fancy. While I'm very proud of our earliest figures, I wish (to paraphrase Rod Stewart & The Faces) I knew then what I know now.........wait til you see the Spartans in plastic.....

Question 2b You are famous for the Movie 'tie-ins' for your figure ranges, an inspired idea - how did that come about? Do you have to pay for the link?
Answer 2b
The whole movie tie-in wasn't as inspired as your question would kindly suggest. The better question might properly be 'how come most of the leading plastics manufacvturers were not already doing film 'tie-ins'??? Said differently, our forays into this area only seem inspired due to the absolute lack of endeavor into this realm by others before us.....???
After all, while action figures, video games, model kits, etc. ALL seem to thrive upon licensed tie-ins the toy soldier world has been lacking..............

The reason it all 'came about" is that I wanted to not only make toy soldiers but also wanted to 'pay my respects' to the great films and stars who had provided not only great entertainment for us and who became great inspirations & role models for us. It struck me as seriously wrong that folks such as Kirk Douglas, John Wayne, Charlton Heston, Gary Cooper, Stanley Baker, Jack Hawkins et al had never been available to us as 'toys' whilst just about every movie today spawns a new batch of tie-ins. I also hoped that by creating sets attached to movies that we might also attract some new viewers to some of these great older films. I always believed that if one child could see Spartacus for the first time and if he could be as affected as I was by the message when I was a child, that my efforts could be deemed a success.

Yes, one has to pay for licensing tie-ins--usually both the studio and the stars want and receive a piece of the revenues. This has been interesting to me as well as extremely frustrating at times----as I feel like I've been allowed to 'peek behind the curtain at Oz" --sometimes not liking what I've seen in the way of egos and greed in Hollywood. Gentlemen like Kirk Douglas and Mel Gibson as well as Bela Lugosi Jr. stand out as wonderful to deal with. Some stars, agents & studios 'get' what we're trying to do whilst others only see dollar signs........

All in all, I feel very good about saying 'thanks' via our efforts to some of these cinematic greats. I've genreally turned down studio deals in the past several years as the approval process can be extremely time consuming and often maddening. One silly , giggly junior exec at MGM takes the cake for having disapproved 5 sculpts of Mr. Douglas in The Vikings BECAUSE SHE 'DID NOT LIKE THE HAWK INDUCED SCAR ON DEAR EINAR'S FACE--although she admitted to (a) never having seen the film, (b) did not know who he or his son Michael were(!!!). When I tried to explain that Mr. Douglas had approved the sculpts, she responded "who is Mr. Douglas?"........./. She wouldn't approve the scar and I refused to compromise my integrity......


Question 3 Have things moved along pretty much as you expected, or are you somewhere quite different to where you had envisaged?
Answer Yes & No. I never realized that we would be received as wonderfully as we have been by our fellow collectors. I knew that I personally wanted & needed 'these figures" but I was unsure how many others were 'out there' with the same unfulfilled childhood dreams and toy soldier 'wants'. I never expected we would grow so rapidly or become such a force in both the plastics and the painted metal world. Originally, I hoped to make a few things, test my creative 'side' and see what happened. I never envisioned having such a large collector support base. I never imagined having folks so eager for our next release and so cross with me whenever we've experienced delays.......

I was also floored by the friendliness which collectors have shown to myself and my ever tolerant wife Nancy. I never expected I would make friends with so many nice people -all over the world---and all because of toy soldiers!! I've found in these collectors a kindred spirit which keeps me highly motivated as I now know that I am doing this for all of us....and not just me. I feel that if I had lived down the street from these collectors when we were kids that we would have probably become lifelong friends.....better late than never.....

I hoped that we could make some nice plastic figures and contribute to my favorite hobby; I am still shocked by the acclaim which people have all too kindly showered upon us.

My biggest problem and #1 disappointment is that we've grown so much that I no longer take ALL of the phone calls and can no longer give every collector the personal time & attention which I'd like to give them. There are only so many hours in any day and I never seem to have enough of them....

Question 4 What's is the 'production' process, from idea to figures in boxes ready for sale?
Answer 4

I design each & every figure or building and terrain piece. I also design the packaging and brochures and yes I'll admit to coming up with the sometimes campy or tawdry set names/titles. These are the highlights of the 'job' for me and I try to create figures which are as realistic as possible while also attempting to make them as 'playworthy" as possible. I try to visualize how the figures will interact with one another and their surroundings.

In a "rush" I can get a figure sculpted and copied within a week and generally back from the factory in saleable form in 3 months if it is pewter and usually 6 months if it is injection molded plastic. A simple plastic figure could conceivably be readied in 3 months if it were 2 dimensional in nature (which I refuse to do) and a crude spin cast resin figure could probably be achieved in 2 to 3 weeks or sooner (which I also do not do).

We are a relatively small enterprise in the world of manufacturing and we are often at the mercy of factories and sometimes don't receive the attention or priority status which I'd like......

Question 5 Sculpting - who does it? Do you have a regular person or team?
Answer 5
We utilize the skills of a number of different sculptors. Right now we have 2 guys working full time on figures and a couple of others who work part-time as we need them , another works on terrain only and yet another is doing vehicles and such.
I should also mention the tremendous skills of Joe Baker who sets up and photos our battle dioramas and runs our web site......he's been a wonderful help. In the sculpting area, there are too many skilled artists to mention but I will single out Robert Ortiz who is simply the best and currently does all of my favorite and/or most difficult poses. Alot of sculptors in the industry are great but Robert manages to understand & to translate my designs and desires more vividly than anyone else to date. To top it off, he is a great guy and wonderful family man and a good friend. He makes it fun to come to work every day!!!(as do the others in their own way)



Question 7 Your last release was a huge number of US WWII GIs - why so many for the period?
Answer 7
We've always released a large number of poses with every new range. Our Thermopylae range looks likely to debut with at least 30 new injection molded poses. Our Alamo Mexican Army made its first appearance with 15 distinct poses but with alternate 'hats' we actually released 30 different figures. The Beau Geste playset as I recall had over 20 poses, we've released 28 WW2 Germans..... and so on.....

I'm a great believer that a 'critical mass' needs to be achieved in order to make a range really 'playable'. Speaking as a collector, I never liked it when other companies would release 4 poses or 6 poses if we were lucky. Many companies even would release 4 poses such as 24th foot and then delay 6 months or longer to unveil Zulus.........in my opinion this does a real disservice to the collector who is being asked to spend alot of hard earned cash to buy into these products. I recall always being disappointed that a release of 4 figures was more disappointing than it was exciting......mfrs. did it of course to force buyers to effectively buy 4 of every pose whether they wanted to or not(16 figure sets with 4 poses). Six figure ranges like Britains detail were better but the problem with any gunpowderers was that once you had the standard kneeling & standing firing plus standing. loading and then the requisite officer and flagbearer you were up to 5 poses and just when things should have become exciting the range came to an abrupt end..........my entire purpose has always been to do our best and to try to improve our hobby and to give collectors that which they have been deprived of in the past. Releasing 4 or 6 poses just doesn't do it for me.

I'd rather make an era or a range lifelike or believable than to scatter our efforts across a host of topics. The GIs are the key element of our Omaha Beach playsets and my heartfelt decision was that if we were going to do Omaha Beach 'right' we needed to give our all......even though it was a huge financial pill to swallow at one time...after all, the real heroes of Omaha deserved our best effort........they gave their all and for me to wimp out just to be able to turn a quicker profit seemed horribly wrong.

Question 8 How do you go about deciding what figures to do next?
Answer 8 This one is simple. I make what I want to play with ...with the caveat that I've been forced to delay some key projects like the Spartans until I was satisfied that we had the sculpting and mold-making capabilities to recreate these warriors in all of their glory without having to make major concessions in what the final product would look like.

I also try to do something for each group of collectors.. Medieval Collectors for example have quite alot to choose from in our catalog of product. Before I release more Medieval (and oh yes it is coming) I wanted to really address Ancient Greece. Right now loads of collectors are clamoring for more Alamo and ACW fans are driving me crazy with requests for artillery and cavalry and WW2 buffs want more Germans...... All of this is coming but I have a tendency to add to each range in a big way rather than making small additions to a bunch of different ranges.


Question 9 What has been you best selling plastic figure range - and why do you think is?
Answer 11 All of them have done very well. American Civil War has been the biggest .......this is one range which has clearly jumped outside of the traditional toy soldier channels and is sold across the USA in museums, battlefield shops and so forth. Having said that, I'm constantly amazed that even our Normans & Saxons & Vikings are perennial sellers......

Thanks for this opportunity!!! Hail Ragnar!! Cheers RC


Back to the regular Q and A section...

Why don't you answer more questions on the various toy soldier 'forums' on the web? I often see you on some forums answering questions but not others......??? Ever thought of settting up your own Conte forum???

Forums are a bit of a conundrum . I think it is great that they exist and find them a wonderful way for collectors to share information. At their best, i personally enjoy them. Having said that, I have been sorely disappointed by the manner in which several of them have been horribly 'misused' by their owners/operators in what we should call 'mischievious" ways or otherwise turned into a quagmire by 'planted' , biased comments. Even the fair and objective sites are sometimes
hijacked' by individuals who do their best to ruin the experience for others.

First the negative:

Just in the past year we've seen one forum constantly become a "Conte bashing" site where we are regularly criticized and often personally defamed...usually by the same select few individuals who have an 'ax to grind with us'. Specifically, one former dealer who was 'cut-off' by us and barred from carrying our product went on a personal crusade to attack me personally, my staff and our product on all sorts of bogus and made-up grounds. It seemed that no matter what soldiers we released he had some horrible complaint.

The funny part was that this 'dealer" was still sneaking and buying our product for his own collection and enjoyment through one of our many dealers and/or using a relative to place orders at Conteco's office for him!!!!!! He couldn't live without our toys and kept buying them ---while at the same time-- warning other collectors not to buy
our product!!!!!

Another well known forum owned by a toy soldier dealer perpetually recommends & lauds the efforts of most other manufacturers while never having a kind word for our efforts. One would have to figure that even the most curmudgeonly toy soldier collector might sooner or later find at least 1 item of ours which they halfway liked.....??? Not these guys. Not surprisingly, these folks regularly seem to have topics or threads 'pushing' or highly recommending product which they DO sell. I've been told by several people that this particular forum actually 'plants' its own supposed collector comments supporting the views of the owners of the 'store'......by doing so they try to make it look like their own views are supported by independent collectors........when all that's really going on is a sort of 'shill' operation where the whole thing is 'dummied up" to increase sales of what they do sell and to drive collectors away from competing product like ours!!!! (the web manager for this particular forum REGULARLY BUYS Conte product and has often directly complimented me at toy shows regarding the excellence of our work yet somehow the web page he runs for the dealer NEVER says a kind word........go figure........

In several cases we even found that several 'posters'--who tried to appear as mere collectors--were actually working in cahoots, supporting a planned series of criticisms. Both of these individuals have actually been shown to be guys who work for one of our manufacturing competitors!!!!!!!


Collectors are very smart & I trust they can usually see through this sort of stuff. Pictures are worth a thousand words (or more) when it comes to toy soldiers....

Apparently our soldiers are good enough to cause some in the industry to take their worries and jealousies to extreme & immoral lengths...(don't get me started on the one competing company which intentionally sent viruses to us eleven times (Yes 11 times) aimed at destroying our computer system!!! I can't say more as this is still a criminal case being monitored by the FCC or the current efforts by a competitor to spread rumors that we are going out of business.....!!!!! Amazing yet very sad stuff...........

The Positive:

I take all of the nonsense referred to above as 'back-handed flattery'. If our product wasn't good, we would not be a target .........

I 'd like to actively take part in all of these forums but I unfortunately just do not have the time due to my designing all of our sculptures, color schemes, packaging and such plus the usual stuff associated with operating our company. I usually become involved when fellow collectors who support our efforts alert me to wrongdoing.

Toy soldiers is above all a hobby and it should be fun for all of us. The intrigue which goes on has really mystified me...but again, it speaks well of our offerings that others fear them and find the need to engage in all manner of 'activities' to try and negatively influence others.

Several of the forums are excellent and seem to be objectively & fairly run having 'moderators' who take it upon themselves to make sure that unfair bashing and personal attacks are not allowed. The good forums require posters to register and prove their real identity before being allowed to post...this simple act has eliminated the ability of guys to appear under false names and with no accountability. The forums which are "pure" and not tied to the sale of product are usually the most objective--and I am certainly not criticizing all dealer run forums here as many are excellent.

Now, as to whether we have ever thought of operating our own forum, the answer is YES, we've discussed it. We have not 'done it' since (a) it would seem very 'self-serving for us to do so, (b) we've always answered personal inquiries from individual collectors since the day I started Conteco thereby effectively running a personal forum, (c) there is not enough time for us to do everything else we are doing so adding a forum to our daily tasks is hard to envision, (d) we've started doing these Q & A's so that common questions can be addressed for all who might be interested.





Why don't you 'preview' or show more of your figures which are in development?

I actually think we do show most of our product in varying stages of development. I think we preview more toy soldiers than most companies do as I feel it important that our collectors be involved in what we are doing.

As much as I would like to show every set which is in the planning stages , one of my biggest problems with previewing new sets is that once we show something new, many collectors become very impatient or unhappy with us if they can't buy it right away. Occasionally a few collectors even get angry as they want the new sets so badly for a birthday or holiday present...and feel we've failed them somehow by not delivering product to the marketplace quickly enough.

Another reason I sometimes delay 'showing' new toy soldiers is that other companies often try to steal or copy our ideas.....just recently it has been pointed out to me that another manufacturer actually copied one of our somewhat unique Viking poses(about to climb on to a ladder) and used it as the basis for a new figure of their own. Since the owner of the other company actually studied the pose in question when we had it on display at a toy show, I hate to admit that there is probably some real truth to the comments made to me.

Being an American based company using American sculptors, master painters and such is something which I am proud of but there are some disadvantages......some other companies who are located in Asia can replicate & rush new product much more quickly than we can for all sorts of reasons...........events like the one mentioned make me reluctantly feel that I need to 'hide' some of our newest designs until they are close to being released.

Have you ever considered producing or licensing your figures in 25 mm or 1/72nd scale ? (We are asked this alot)

I would love to see our product available in these other sizes for wargamers.....absolutely yes!!

I have no immediate plans to manufacture these myself as every dollar goes into making more 1/32 scale product but I'd be glad to talk to other companies about using our poses ...so the answer is yes---we are open to it.

Who do you use for your models?? Are any of your figures based upon real life persons??

This gets asked now & then in different contexts. All of our historical personalities are based upon the actual historical personalities as best as we can do. Wherever possible we utilize actual photos of the person. This is of course tough to do when you are talking medieval and ancient guys. In these cases we try to find historical descriptions if at all possible or look at artwork made as close as possible to the person's actual life. (often there are bronzes or busts or even mosaics).

Harald Hardrada (the Last Viking set) was a great example where we were not able to find any good pictures of him but were able to find several extraordinarily nice accounts of his size and look. The rest was conjecture on my part and trying to guess how he might have aged and 'looked' just before his demise at Stamford Bridge. I always smile when collectors or dealers tell me that he is unusually 'big' or 'out of scale' to the rest of our Viking line........this is because he was documented as being 6' 6" tall in an era when anyone over 5' 10" would have been considered huge. We had to make him big..........(during the famous meeting between Hardrada & Godwinson the Saxon King offers the Viking King 'and for this one, more than 6 good feet of English earth"(for his grave!)

I design virtually all poses and 'looks' and how it happens is different with every sculptor; with Robert Ortiz I can simply describe a face and it s features saying something like ' I want him to look 40ish with large aquiline nose, a mouth like so and so, a neck like 'refrigerator Perry" and he needs to appear angry--like he's 'seeing red" and wants to kill something. And give him long hair that looks greasy dirty, ragged looking teeth", and a sparse beard..... and lo & behold he will nail it. Sometimes a given figure may have features from 5 or more different pictures /persons. Alot of other sculptors will use "Airfix" "multipose' heads and/or product from other manufacturers (Presier/elastolin has alot of bodies which sculptors can buy and cut up) but the problem is alot of the sculpts end up looking similar. One sculptor we had used to always tried to reuse Robert Ortiz heads/faces on his own sculpts.......getting 'likenesses' right in this scale of sculpting is nearly impossible and Robert and Jim Rogers are two of the guys who have been able to achieve success very regularly.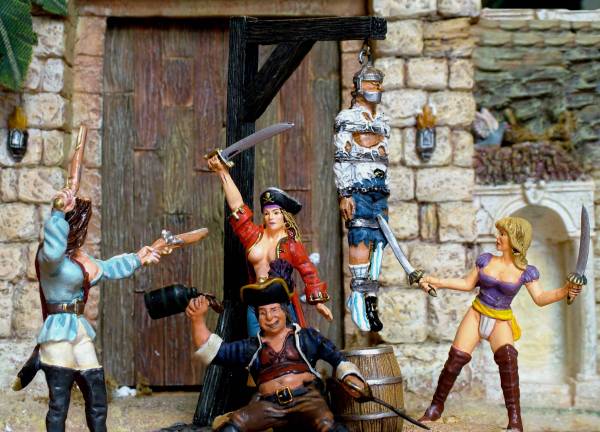 A sub-question often asked is about who did we model the various female sculptures after? (LOL). I intentionally modeled the one pirate woman firing a flintlock pistol and wearing tall boots after my wife Nancy and have never heard the end of it!! Back when this set was new, collectors used to ask her to autograph the box of Pirate woman even though she constantly denies any similarity. I can't recall how the story leaked out..the Barbarian Queen was modeled on my Granny in her youthful days around 1915 mixed with an image from one of those dinosaur epics (come to think of it, how come Marx never had cave women like this in the prehistoric playsets? I'd still own mine if they had....)......she was slightly more amused than my wife and was proud of her strong Germanic & Nordic heritage.

There are 3 or 4 new Saxon woman coming soon in the Viking Raid series and I am thinking Ann-Margret and Elke Sommers deserve a nod. (after all they are both Scandinavian so I know we are 99% genetically on track).......

....as to common comments/criticisms that our women are not accurately representative of real women, all I can say is I don't know what you mean as these seem like real people to us...but remember... we've lived in Las Vegas.....
Whatever Happened To The "Interior Castle Parts" For The War Lord Tower?

Curious how this question pops up from time to time. Especially since the War Lord Tower was introduced as our first play set back in the late 90's. Apparently there are some strong (and occasionally angry ) collector feelings about this one. I'm not sure how often people really are concerned about this or whether it is largely showing up on web forums and chats due to our 'detractors' bringing this up as a failed 'promise' on our part..however it is viewed it is one of our 'failed projects'.

For those who don't remember , The War Lord is one of my favorite movies starring Charlton Heston, Richard Boone and Guy Stockwell, which is all about Normans defending a medieval tower against attacks by Frisians (Viking 'light' as one collector called them.). We made a replica of the tower* and sold this in a play set which was also bought by many fine pewter collectors to use with painted metal. (One of our collectors even turned his tower, in a very innovative twist, into a headquarters for SS plastic troops!). We 'licensed' from a movie studio the right to replicate the tower and included packaging which had photos or scenes from the movie.

We originally hoped to sell & actually had sculpts and prototypes made of a circular staircase, some interior archways, doorways, walls, etc............BUT NEVER SOLD THESE . Why?

Three reasons: 1) the movie studio did not initially approve our manufacturing and selling these, causing close to a year and 1/2 delay; (2) when they finally approved it--after a personnel change-- our license was up for 'renewal' and they wanted us to pay a huge licensing fee, upfront plus a % of all sales; (3) the cost of the licensing fee alone would have averaged over $100 to $200 per set of interior parts before ANY of our sculpting or production & sales costs. To even breakeven on the COSTS of this set we would have been forced to charge almost $200 to $300 per set of parts--which was ridiculous.....and I doubt any collector would have paid this.....

Since we only had about 50 collectors who had signed up to buy these sets out of the many hundreds of collectors who had bought the playset, it was very clear that we could not produce the sets...and unfortunately, most of the pieces were assiduously copied from structures portrayed in the film meaning we needed the licensing approval.

Compounding matters, we had already produced about 50 sets of parts in a yellow color resin (don't ask me why they weren't made in a gray stone-like color as I never received a good answer from our sales manager....or head sculptor)...these were all delivered to our sculptor in the Mid-West...and while he claims he sent them to the Las Vegas office, they were never received there and no tracking record could be found!! Approximately 10 sets which were in my possession are now perhaps among the most rare and expensive 'flops' in our history. Five or 6 of these sets were sent to various factories in an attempt to garner bids---NO ONE wanted to produce such small quantities ...... I have one set on my large work table where it sits as a painful reminder of one of those great ideas that never made it to the marketplace! I have never set it up inside my tower or played with it as I've always felt that if collectors couldn't enjoy it, that I shouldn't either.

If anyone ever sees these showing up on ebay please let me know as they are undoubtedly the missing sets........

* There actually were at least 3 different towers used in the filming of the movie. A Small Model which I think was only about 15 " tall , the roof top of the tower used for closeup battle scenes and the actual huge tower which sat on the movie studio lot for at least 25 years after filming was completed. Interestingly, the interior placement of windows and arrow slits did NOT coincide with or match the exterior placement of such items, which made getting an accurate sculpt nigh impossible. Contrary to popular collector understanding, Ken Osen did NOT sculpt the tower...it was done by a guy in Hollywoood who made miniatures for films!

What are your favorite movies?

It's funny how often I get asked this but most toy soldier collectors also seem to be 'bound' by a common interest in movies as well and for some reason collectors often inquire.....this question is better left for a Leonard Maltin or Roger Ebert.....

The list is too long to cover them all and I will limit my list to war and action adventure genres as I could go on all week if we started talking westerns, comedies and dramas......I'm sure I am forgetting something

#1 The Vikings with Kirk Douglas
#2 Spartacus with Mr. Douglas again
After this it gets really tough as there are so many....
I really like Zulu, Beau Geste, The Longest Day, The War Lord, El Cid, Adventures of Robin Hood, She Wore A Yellow Ribbon, Northwest Passage, the Basil Rathbone/Tyrone power Mark of Zorro, most of the various Alamo movies, Captain Blood, The Four Feathers(1939 version)......Khartoum, Lawrence of Arabia, Sands of Iwo Jima, Sgt. York, etc.....the tv movie Rough Riders, Man Who Would Be King , The Crimson Pirate, Wake Island, Guns of Navarone......Patton......Gettysburg...Braveheart....Ivanhoe......Henry V...Kingdom of Heaven...Gladiator....Lives of A Bengal Lancer...Gunga Din.....The Patriot..The Wind & The Lion...Great Escape..etc...

For battle scenes I also love March or Die, a Foreign Legion film which many have not seen as it bombed at the box office and Waterloo which also never did well with ticket buyers and Zulu Dawn ...all three have spectacular battle scenes with not much else to enjoy.

Despite sheer 'campiness' I also must admit to liking the less than stellar The Long Ships and the 300 Spartans (the latter having music which can almost make one run from the room) as well as Hercules Unchained, Jason & the Argonauts and the 1950's version of Helen of Troy.

For 'sets' and production values one needs to give Cleopatra special consideration despite the Taylor -Burton controversy. The ships and the sets and costumes are spectacular.

I am always surprised by how few folks have ever seen The War Lord and was very pleased that we were able to supply almost 1000 videos (now out of print) to collectors so they could enjoy.......many seeing the film for the very first time.

Send us your favorites in 1 to 10 order and we'll post a reader's poll result at some time in the future.....
Are you related to the actor Richard Conte?


Apparently this rumor has been floating around since I made my first plastic toy soldier.

I am told (by my grandfather) that I am apparently a distant cousin (something like a 6th or 7th) to this distinguished star of the 30's thru 60's. I never had the opportunity to meet him but am constantly asked if we are related.

Interestingly, his name apparently was Nicholas and his middle name was Richard. In some of his very early speaking parts he is billed as "Nicky' and then a few years later he is "Nicholas"......by the time he does "13 Rue Madeleine' with James Cagney he has adopted Richard which he uses to the end. Most youngsters will not know his fine body of cinematic work including A Walk in The Sun and some great film noir and may not even recognize the name. When I mention Don Barzini in The Godfather and his being gunned down on the steps of a church, everyone instantly remembers him although this is very near the end of an illustrious career. Others will remember him from the original Ocean's Eleven or Sinatras "Tony Rome' films.

Having the same name has led to a couple of interesting & fortuitous meetings which I enjoyed very much. 1) while still a teenager I was pulled away from a Caesars Palace slot machine and was told to stay out of the casino. As I had just seen the fantastic Ann Margaret's stage show that same evening, I picked up a house phone and asked for her dressing room fully expecting to get nowhere. To my surprise someone answered and asked who was calling....I told them Richard Conte and before I knew it A-M's husband Roger Smith ( a famous TV star in the 60's with 77 Sunset Strip) got on the phone and said "Hi ya Dick...how have u been...it's been a while since I saw you at the party at Frank's house" clearly thinking he had the movie star on the phone. After explaining the error, he had a good laugh and asked what I wanted......thinking as quickly as I could I told him how I had just seen the show, was then bounced from the casino and was hoping I could meet them both... Mr. Smith was kind enough to invite me back to the dressing rooms and both he and A-M were great and had a good laugh over the name confusion.....for years they sent me Christmas cards which were always a treat....I especially treasure the one of A-M wearing nothing but a white fur coat while seductively sitting on one of her motorcycles!!!

(2)Another time, I was Frank Sinatra's 'guest' at one of his concerts in Lake Tahoe ......the maitre 'd asked me when I arrived at his booth 'where is your Dad?"......it never occurred to me that he meant the actor!!! I said he was home thinking he knew my real Dad who often visited this hotel...he then proceeded to take me & my date down to the very front row, center table right next to the stage..I tried to tip him and he refused the $$$ saying 'you are Mr. Sinatras guest!!!! Everything is on him!!!"
I still recall Mr. S looking down at me while singing Send In The Clowns and wondering who the heck I was........

What is Conteco's most rare figure?

There are 4 which instantly come to mind although there might be others. These are all plastic and were never actually sold to anyone although the molds were made and some figures were actually run. These might be worth something on ebay some day...... as I doubt we will ever go back and do a major production run with these.

These are (1) a plastic Greek/Spartan done in tan plastic, (2) a Revolutionary War Britiish figure done in red plastic, (3) a Rev War Continental done in blue plastic & (4) a ACW Union figure standing firing a rifle. I seem to recall a handful of each also being run in the green/gray color which we've used for WW2 Germans.

#2 and #3, the Rev-War poses, were intended for the never to be made plastic playset based upon the film "The Patriot'. We ran several hundred samples of these two figures and passed them out at the NY Toy Fair (huge toy show ) along with promotional materials for our Patriot pewter range. Both figures had engineering problems with plug-in arms which the factory never fully corrected. These were experimental in many ways as one in particular had both hands plug in whilst also holding a musket......compounding the problem was the fact that no one at Toy Fair really seemed interested in buying UNpainted plastic figures. In fact, most of the 'buyers' at the show tended to be women or persons too young to even remember Marx playsets or the heyday of unpainted plastic figures.

To top matters off, the movie studio from whom we had licensed the rights to the film breached its promise to include promotional sales materials inside every DVD and VHS--which we were heavily counting on...and then the movie did poorly at the box office.........etc.......by the time we found a new factory which could do painted plastic figures, the 'buzz' over the movie had died ......I remain hopeful that we will be able to release Rev War plastic figures at some point...even if we do, I doubt whether these 2 will see the light of day as in the interim our sculpting and mold-making capabilities have vastly improved.

I really like Mel Gibson and loved the film despite all the criticisms of historical inaccuracies. Unfortunately, the Patriot plastic project is one of those close-to-the-heart projects of mine that 'got away' due to circumstances beyond our control.
(Sadly, based on our lawyer's advice, we also had to cancel our plans for a "Mask of Zorro" playset when we got into the disagreement with the studio over their breach of promises to help promote our "Patriot" product. By that time we already had 11 sculpts done including a fantastic Zorro standing on top of 2 galloping horses......ahhh...it pains me to think that this one also never happened--especially since I had to pay for the sculpts!!)

#4, the Union pose, was beautiful but shelved when we made the decision to do painted plastic ACW and had to switch factories. A really nice well-molded figure done by Ken Osen.

#1, the Ancient Greek, never was released as I was somewhat unhappy with how the figure turned out. I envisioned our Spartans as muscle bound professional warriors who had trained every day for over 30 years before arriving at Thermopylae.....unfortunately the fine Ken Osen sculpt seemed a tad too anemic and two dimensional after some inevitable 'shrinkage' associated with the mold process. This figure is unlikely to be produced as we now have a spectacular new range of Spartans & Immortals sculpted by Robert Ortiz which are featured on our web site.
Is it true you make alot of soldiers for you own personal use which you never offer to collectors? Is there a battalion of secret army men which you have but do not make available to fellow collectors?

This is another of those weird toy soldier legends which crops up from time to time. The answer is an emphatic "No".....every pose I design is intended to be sold to fellow collectors.

The costs of sculpting at the level we are able to achieve is very expensive and it would be absolute craziness to think that I could afford to make sculpts aimed at my own secret personal use.....total fantasy on the part of those who started this rumor. Makes me laugh.....

Besides, I started this company as a frustrated fellow collector who longed for certain poses & themes which manufacturers were unfortunately not making. My goals were to make the toys we ALL wanted and to promote children's interest in our hobby and in history...not to create some secret , jealously guarded private collection. I want to share our creations with as many collectors as we can possibly reach. On a few occasions we have had sets of figures sampled or prototyped by one of the factories but have never released these sets to the public for sale--perhaps it is rumor of these figures that has fueled the overall rumor??

My policy remains that anything I can play with I want you to also be able to play with or collect.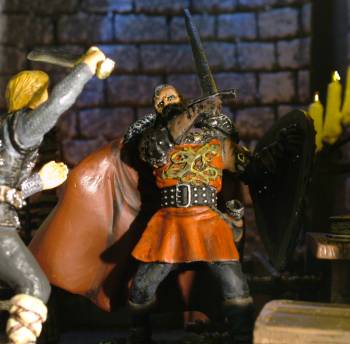 What is the story of the Conte logo?

I get complimented on our two variations quite often and invariably get asked where it's from .........

Quite simply it is based upon the design on the Viking ship featured in the movie The Vikings and was loosely based upon some actual historical designs. It can be seen in some early frames of the movie as Ragnar(Ernest Borgnine) returns home from a Viking raid on England. As everyone knows, The Vikings is my favorite all-time film and Kirk Douglas my #1 child-hood hero.

When starting the company, I asked Mr. Douglas for permission to adopt the 'great snake ' design as part of our logo.(even though it very likely was in the public domain anyway). Very kindly, he agreed and I think was somewhat amused by the request. The very first piece of stationery and my first business card with the logo were sent to Mr. Douglas in a thank you letter.

The service marked logo has actually appeared in 2 variations: first, on the sail of a Viking ship rendering and secondly on the recently seen medieval shield as a crest.
The logo is my silent way of paying tribute to Mr. Douglas each and every day and thanking him for the profound influence which he has had upon my 'formative years'.The message he tried to teach with Spartacus is with me each & every day.

Because of The Vikings and Spartacus I have had a lifelong interest in ancient and medieval periods.

Is there really a Conteville?

Seems that this comes up quite frequently. Many collectors know my love for Normans & Vikings. Many also know that we often mention Conteville......most apparently think I've either gotten into a strong tankard of ale or have just plain lost it when they read and hear this stuff. The fact is that a real village does exist in Normandy with a population of about 80 humans and maybe 250 cows.

While small now, this village had important connotations in the middle ages as William the Conqueror's mother lived there and reportedly gave birth to his 2 brothers, Odo, Bishop of Bayeux, and Robert, Count of Mortain. It actually exists and is not too far from the city of Caen in the heart of Normandy.

While nothing is certain and beyond reproach, my family claims some origins in a mounted knight or man-at-arms referred to as Ralph (Rolf) de Conteville (of Conteville) who purportedly served at Hastings and was rewarded with Saxon lands for his role....... as is widely understood, many in those times did not have a last name and simply adopted the place name where they were from as a means of identification. There is some mention of him receiving lands in southern England in the Domesday book.

Normans, Vikings and the Crusades are my favorite parts of medieval history.....if you ever go to Normandy I can give you some directions....the town is so small that there is no mayor or post office or store.....and no I didn't see anyone who looked like me or the relatives!! Please , no jokes about the farm animals......