Dear Conte Collector,


The plastic Spartans have finally arrived!!!! THEY ARE HERE.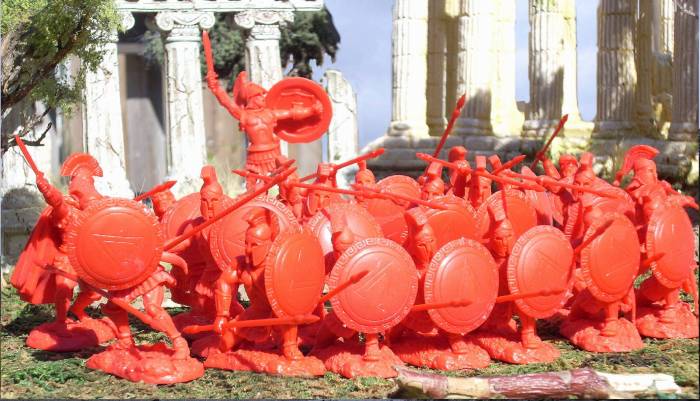 We've finally managed to get them done to our absolute liking and they have departed the factory today. Now we must contend with the shipping time, customs and final delivery to us. It looks like the first few days of August should bring these to me...and then we will start sending them to those of you who have preordered. I fear there is a risk that the first container will be a quick total sellout so please confirm orders now.

Now that we know they have shipped and are imminent we would like to post prices/specials and terms so that the office can begin to 'finalize' your orders. When these arrive, we want to get these shipped as fast as we can to all of you...we know you've waited a long time and we are anxious to get these literally right out of the container and then on the way to your respective battlegrounds.....We have a ton of advance orders and are trying to arrange the process to be as smooth and quick as possible.....we hope for your understanding & cooperation.

There are nine (9) different blistercards. Each card has 7 figures...5 of which appear on every card plus 2 unique figures on each card. If you are doing the math this gives you 23 different poses. The 5 which repeat are the 2 shield wall poses and the 3 phalanx poses. Given interchangeability of heads, arms, weapons and the poseability factors, you have a virtually unlimited number of poses which you can create from the initial 23...........The shields and spears have made it impossible for us to fit more than 7 figures onto a card. I've managed to set up over 90 different poses before having my attention span kick in.....



For the time being, we are ONLY selling these in case lots of 10 cards per case, consisting of 1 each of the 9 cards plus a FREE 10th set of our choosing (this will be randomly done so please do NOT ask for a specific set). The sets incoming are ONLY in scarlet/red and it is a gorgeous red.... new pictures attempting to show the richness and beauty of this color should be posting on our site. It is difficult to capture the shade I picked in a photo..trust me it is fantastic.

Scarlet/red is the ONLY color which we are now selling. Please do not try to ask for bronze or silver. You can have any flavor you want right now as long as it is Spartan Scarlet. We will have limited numbers of bronze, silver and possibly other colors at some future date. Please don't tell us to ship you these other colors as all we will have and be shipping is scarlet red!!!

All Shipments of Spartans Will Be Sent From The Carolinas. Please do NOT call the Nevada office to ask if they have been shipped yet as they will not know the most current information. We have so many Spartan orders that the Las Vegas office literally does not have the time to answer the daily calls just asking about Spartans. Please supply us with your email address so that when these ship to you we can send you a tracking # and notice of shipment (email is preferable but we'll fax or phone if need be) Also, leave us phone and fax numbers so that we can send you a notice of shipment when we send your order out.

Pricing Details: Each card will have a retail price of $24.00. We've done every thing we can to try and keep costs down but fear that oil prices have done a real 'number' on our costs of manufacture as well as shipping costs every step of the way. (My original estimates of $22 /card just can't be met --sorry). Given the labor increases in China, the diminished value of our dollar, size of the figures, excellence in molding, number of parts each figure contains, the engineering & design on these guys, the poseability & the elimination of ugly blockout, etc...... I think we've created something astounding which will revolutionize plastic toy soldiers from this point on.

Specials On Preorders: The price for 10 cards (70 figures) is $200.00 plus $15.00 for UPS Shipping (unless UPS raises its rates again this month) instead of $240.00 for the ten cards bought separately...a savings of $40.00.
This comes out to approximately $2.85 per figure compared to the $3.42 per figure at suggested retail price.

Building the 300/You Want More Than 1 case? We suspect that many of you will want more than 10 cards/70 Spartans? If you'd like to order a second set of ten cards, pay $190 on the second case. Want a third case? Pay $180 for the 10 cards. A 4th case will cost $170. Shipping is $15.00 per case on ALL cases. If you buy 4 cases you are at 280 Spartans at an average figure cost of approximately $2.60. Want to order 10,000 Spartans and recreate the Battle of Platea, RC will quote a price & bring these to your house and play with them with you

Housekeeping Items/ Confirming Your Order In order to get ready to blast these sets out as we want to spend our time shipping rather than verifying orders when these handsome devils arrive, we would ask you to now supply a charge card and verification information to confirm your preorder and to qualify for the preorder special. In addition, we will be charging $30 per case NOW to confirm your order--the $30 effectively being a deposit against the cost of your case. We are also asking now for your authorization to charge the remaining balance of your order to this same charge card when we begin shipping (meaning the balance will be charged in early August the day before your order is ready to be shipped out). If you are buying more than 1 case a $30.00 deposit should be made on each. Please confirm your shipping and billing addresses as well.

It is my hope that we will efficiently be able to rush these sets out by following this preorder confirmation procedure. The goal NOW is to get paperwork out of the way so that once the Spartans arrive we can throw all of our efforts into shipping these out as quickly as we can. The Spartans have, without a doubt, created a frenzy and we want to get as many cases shipped as immediately as we can rather than spending half of our day confirming orders and/or answering phone calls. all asking questions which will be avoided if we follow the procedure I am writing about.....getting mobilized now so we can strike more effectively when the army arrives!

Many thanks. These Spartans are my greatest source of pride from all the years of our making plastic product & should give us all hope for equally exciting and poseable other plastic ranges in the future!!

Thanks for your support & for making our lives a little easier by confirming your orders now. I will be posting photos of Immortal poses which are about to go to the factory very shortly--as I know once you get the Spartans that's what you will be asking about!

Hail Ragnar
RC