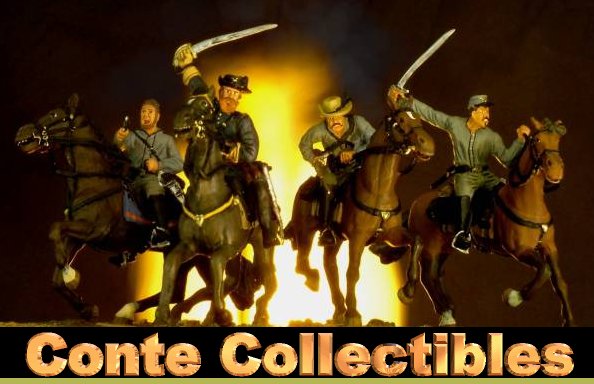 HIGHLY DETAILED, FINELY PAINTED CONNOISSEUR COLLECTIBLES
We are doing our best to "set new standards" in affordability, "collectibility", historical accuracy, sculpting detail/animations, painting and exciting "licensed tie-ins".
Bringing to life great historical events and classic motion pictures via the world's bet value in /32nd scale miniatures, buildings, ships, and vehicles.
Our company, operated by collectors for collectors, is dedicated to producing the finest military miniatures possible and at prices affordable to all.
---
PLAYSETS
"The Playset" - one of the most endearing and fortunately for all of us "enduring" "toys" in the history of not only toy soldiers but of toys in general. Pioneered by the great toy soldier companies of the 1950's and 1960's, the toy soldier playset was one of the most popular toys around. Many of us who were children in the 50's/60's can remember the anticipation, joy and excitement of receiving a Sears, J.C. Penny of Montgomery Wards Christmas catalog every September and immediately turning to the "playset" section in order to see what new (or in many cases, "repackaged") treasures Marx, Ideal, MPC, and others were offering. After an indepth review of young boy's Christmas wish list was complete.
Today, with our "playsets" we've done our best to rekindle the "spirit" of these old pioneering sets while taking things to the next level. We've done our best to obtain licensing tie-ins to classic films and stars, to produce buildings and terrain in true 1/32nd scale, and to push the envelope in terms of the quality of sculpting and production. Based upon what we've been hearing from collectors, dealers, and those writing for the periodicals which cover the industry, we believe we've succeeded.
Just a couple of quotes from Mr. Tom Terry, the Editor of Plastic Figure and Playset Collector Magazine might be in order:
"...the new age of playsets have indeed arrived."
"...what collectors found...was a confirmation of our wildest hopes and dreams and the start of a new era."
From Ancient to Modern, we intended to bring to our fellow collectors the finest playsets. We are proud that our sets are favorably priced when compared to other sets on the market today and in our opinion, contain so much more. Please note that all of our figures are original Conte sculpts, designed by us and sculpted by some of the finest toy soldier sculptors around including Jim Rogers, Ken Osen, and Robert Ortiz. We do not include high priced "re-issues" and our sets are filled with injection molded unbreakable figures and we're proud to be offering our sets at prices very competitive to those who sell only "re-issue" or "resin" figure sets.
We hope you'll give us a try!